About Us
A Company Supporting Scottish Industry
Since our inception in 1988, when the company was primarily a supplier to the Mechanical services industry, we have grown into a multi-functional supplier to all of the building services industry, offering the complete "first fix" package to the Electrical, Mechanical, Plumbing and Ventilation trades.
With the acquisition of our new 14,500 Sq. ft warehouse in December 2001, the company has substantially increased th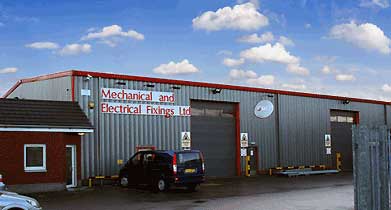 e amount of product ranges offered, and stock carried, thus enabling us to meet the demands of our customers more efficiently.
Now, in our second decade at Loanhead, MEF have expanded to 25,000 sq. feet, and our fleet to 10, including low-loaders and a flat bed.
Moving forward, MEF are the foremost Supplier of Mechanical & Electrical Fixings in Scotland. We are at the forefront for Innovation in our Sector and offer the latest in time saving, labour reducing, and cost cutting products.
MEF's product range has developed over the past 20 plus years, to a level which meets our current wide array of different Trades day-to-day requirements. We pride ourselves on our aptitude to source the one-off product that has proved elusive to our Customer. We ARE the 'One Stop Shop' for our Marketplace.
Our 25,000 sq. feet warehouse offers the capacity required to supply our Customers' needs, with a fleet of 10 delivery vehicles to service the distribution with unequalled timeliness.
MEF has operated a fabrication service for some 23 years, and we have made a significant investment in plant, machinery & materials over that period. We currently operate an unrivalled fabrication service within our sector, with a skilled labour force to back it up. Whether it is large or small quantities we "jig" all bracketry to ensure consistency of size and quality. Pipework and Electrical containment can be pre-fabricated into the brackets prior to delivery to site, freeing up the skilled labour on site, and taking away the uncertainty of predicting labour hours on site.
With the experience gained over many years in the industry our Staff can provide a friendly and, more importantly, an informed response to the customer's valued enquiries.
We look forward to servicing and supporting the Scottish Building Industry into the future, with unrivalled service, and innovation to meet the ever increasing demands for labour saving products, and timely deliveries.